THE TEAM
The PhilCement management team is composed of some of the most experienced professionals in the cement industry. Their knowledge of the market, technology and trends in the cement business is unparalleled.
These competencies are put to good use as PhilCement envisions to be your partner of choice, providing innovative solutions to your construction needs.
In group photo:
3rd row (L-R) : Raymundo Cruz, Leticia Villacrucis, Christopher Ramos
2nd Row (L-R) : Pilar Benitez, Rey Santos, Ed Sahagun, Armand Joseph Morales, Robert Te
1st row (L-R) : Anton del Rosario, James Pabustan, Roy Alfafara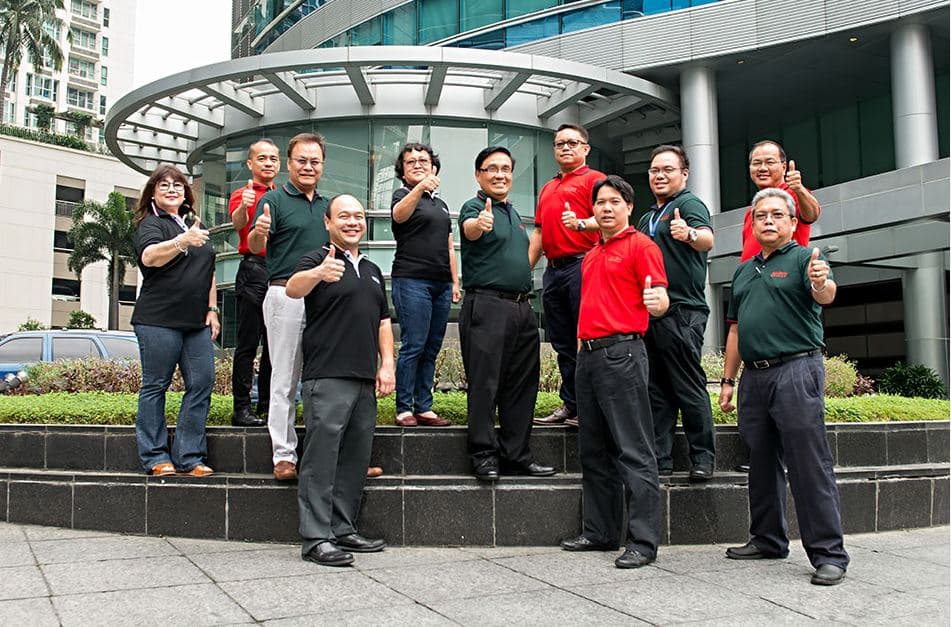 About Us
In 1957, the newly-established PHINMA Corp., composed of visionary business executives who wanted to be part of the Philippines' march into the industrial age, acquired the Cebu Portland Cement Company.
Under the aegis of BACNOTAN CONSOLIDATED INDUSTRIES, INC., the company grew its cement business to become the market leader in the 1980s and early 90s, before it entered into a joint venture with a global cement conglomerate and was subsequently purchased by the latter.
After two decades, PHINMA has returned to the cement industry, in a bigger and bolder way, re-introducing its flagship brand UNION Cement through its new subsidiary, Philcement Corporation.
Philcement Corporation
Philcement engages in world class processing, marketing, and distribution of cement and its complimentary products.
Philcement aspires to provide a reliable and consistent supply of cement products of good quality, which will be very critical to the country's construction boom.
At the forefront of its renewed entry into the cement industry, PHINMA flags its legacy brand, UNION Cement.
The brand's return enhances the goodwill from PHINMA's historical position of leadership in the cement industry.
While it takes pride in its history, UNION Cement has been fortified to become a stronger brand, supported by its strategic partner, Viet Cement Terminal JSC, one of ASEAN's premiere world-class cement manufacturers.
Today, Philcement marks a new milestone in its vision to return as a significant player in the cement industry, inaugurating its Mariveles cement facility inside the Freeport Area of Bataan.
PHINMA Construction Materials Group (CMG)
At PHINMA, we are putting synergy to work with our Construction Materials Group, or CMG.
In its unrelenting quest to help make lives better, PHINMA CMG consolidates its companies in the construction materials industry.
Serving as the singular provider of a wide range of construction needs…
From cement…to steel…to solar energy.
Brought under one roof, PHINMA CMG combines experience of more than a hundred years in their respective fields.
The UNION Advantage

Consistent with its vision of Making Lives Better, the PHINMA Group introduces its Construction Materials Group (CMG) to bring quality building materials at an affordable price and value for the Filipino consumer.

The synergy of UNION Galvasteel, UNION-Philcement and PHINMA Solar Energy Corp. gives its customers excellent choices for steel, cement and solar energy solutions through a program called THE UNION ADVANTAGE.

Make THE UNION ADVANTAGE work for you today.