Ask someone for a sign of progress in a community, and he or she will probably answer "establishments like malls" or "concrete roads." There are other factors for a community to be considered developed, but construction projects like roads, bridges, or buildings are indeed a great indicator. The quality of roads in particular paves way for easier distribution and management of resources, which is a crucial factor for economic development. In this article, we will discuss the impact of road conditions in communities and how cement could influence road construction in the Philippines.
Importance of Roads in Economic Development
The World Bank considers roads as "arteries through which the economy pulses" because they lead farmers to markets, students to their schools, and workers to their workplaces. These activities promote economic spending and earnings. Farmers can sell their produce, local stores earn from consumer purchases, and the transportation sector booms when people commute to work or school. Now, just imagine if these roads were in bad condition. How will they get there if the roads are in bad shape?
Particularly in rural areas, unpaved roads are being replaced with concrete roads for people to have safe and accessible roads. The Asian Development Bank has also acknowledged the importance of rural road infrastructures in the alleviation of poverty. They report that almost a billion people have limited access to good roads, and this affects how they access development benefits. Aside from enabling connectivity and safe transportation, road infrastructures provide access to more economic, education, and health opportunities.
Signs of Poor Road Conditions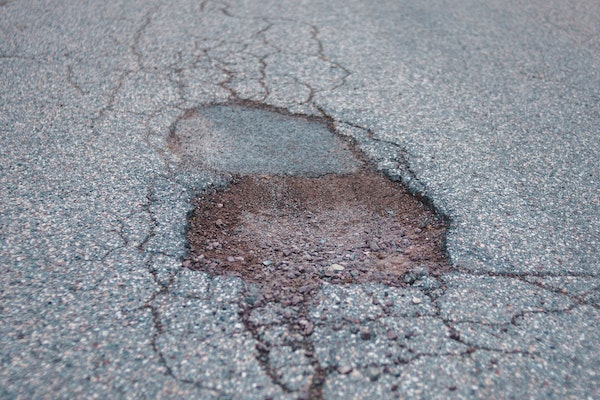 Poor road conditions cause various disadvantages. Here are some signs of bad roads that need the attention of the authorities.
Potholes
Potholes are holes on the surface of roads that are caused by any or a combination of the following: weather, overuse, and poor maintenance. Potholes are normal occurrences, but with proper maintenance, they can be prevented. They make traveling inconvenient and unsafe, so potholes must be fixed immediately when early signs become visible.
Uneven Pavement
The best roads to drive on are ones that have flat and even surfaces, as they protect drivers from vehicular accident risks. If roads have uneven pavement, it can cause problems like a tire blowout, axle damage, and other car accidents. Uneven pavements can be prevented by having professional contractors build roads following the highest construction standards and using quality materials.
Water buildup
If even the lightest rain causes puddles, or worse flooding, then a road may not be in its greatest condition. Water buildup on roads is dangerous because it may cause drivers to lose control of their vehicles.
Unpaved roads
Unpaved roads are roads not covered with materials that suppress dust or provide roads with a hard, smooth surface. Paving allows for better driving conditions. Asphalt and concrete are some of the materials used to pave roads.
Concrete for Better Roads
Between asphalt and concrete, the latter is more recommended in building roads because of the following advantages.
Concrete roads are durable. They can last for years with proper maintenance, around twice the lifespan of asphalt roads. Concrete roads are less prone to cracking, potholes, and other defects. Concrete is one of the strongest materials when it comes to construction. In fact, concrete roads can withstand heavy loads of vehicles with less impact on the road quality as compared to asphalt roads.
Concrete roads are more comfortable to drive on. The hard and smooth surface of concrete roads makes driving a more pleasant experience, unlike when driving on unpaved roads. Unpaved roads can cause a bumpy and dusty driving experience, which could increase accident tendencies.
Concrete roads are safer. Their surface prevents the skidding and sliding of vehicles. After heavy rains, concrete roads tend to dry faster than unpaved roads, which may be muddy after rain. Consequently, muddy roads may cause vehicles to get stuck. Visibility is also better on concrete roads. At night, they provide better visibility because concrete roads absorb less light. During rainy days, they reflect less light, which also improves visibility.
Concrete roads are fuel efficient. Driving on paved roads consumes less fuel. Since driving on well-maintained concrete roads provides less delay, drivers could save a bit of fuel cost.
Concrete roads are environmentally friendly. Concrete is made of cement, which is produced by processing limestone, which is a natural material on the planet.
Bulk Cement Suppliers for Road Construction in the Philippines
The quality of the concrete road will depend on the cement you will use. If you are a contractor or in the business of creating roads, be sure that you only get your cement from reputable suppliers. A highly recommended cement brand for road construction in the Philippines is Union Cement.
Union Cement's recommended product for road construction is Union Ultra Strength 50, Union Cement's Ordinary Portland Cement with compressive strength of up to 50 MPa after 28 days, which simply means that it can withstand heavy and extreme loads. This makes it highly suitable for structures and buildings that require durability and resilience. In addition, it conforms with the DPWH standards on cement materials. Union Ultra Strength 50 is available in bulk and in jumbo 1.0 metric ton bags, which are preferred for large projects such as road construction.
For general concrete applications, Union Super Strength 40 is a Type IP cement product blended with superb mineral additives applicable for general concrete construction.
Union Extra Strength ES is Union's type 1P Portland-Pozzolan cement variant formulated for general concrete applications and generally available in stores in key markets nationwide.
Consistent with parent company PHINMA's vision of making lives better, Union Cement provides a reliable and consistent supply of high-quality cement products and services to support our country's construction and infrastructure requirements.
Union Cement is part of the PHINMA Construction Materials Group (PHINMA CMG), which includes affiliates Union Galvasteel Corporation and PHINMA Solar Energy Corporation. The synergy of these three companies allows PHINMA CMG to provide high-quality steel, cement, and solar solutions at outstanding value to customers nationwide.
Union Cement ang Sementong Astig. Basta semento, i-Union Cement mo! Contact us through our website or call 0917 189 9791 for bulk cement prices and inquiries.
Photo by Jason Aleligay
Photo by Erik Mclean